Previously I told you about my first few sets of jobs and setbacks, as well as the two big lessons I learned in my early twenties:
Strategically play crappy situations to your advantage.

Get paid to learn.
But there was one more lesson I needed to learn before I could launch an agency doing what I love:
Focus on things that are easy for you, difficult for most, and valuable to the people who make decisions.
Here's how I learned that gem.
I told you how I graduated from college and took a job at a software company, then moved from there to a startup marketing agency. That lasted for about a year, until the owners (my employers) were hired full-time by one of our clients.
That meant the agency was going into standby mode, and I was out of a job.
So I got a new one—this time with a century-old publisher in Colorado Springs. I was their inbound marketing guy, doing email and lead gen and all that cool stuff.
I was getting paid about $53,000 a year. Not exactly a meager salary for a 25-year-old.
Things were good. And I was good at my job. During the first month, I was giving tutorials to my teammates on content marketing strategy.
A few months in, I was participating in more high-level strategic discussions. Nothing too big, but definitely weighing in on larger decisions.
By the time I had been at this job for six months, I was getting lunch/coffee with C-levels and VPs at this company. We would shoot the breeze and talk about the kind of stuff I was paid to do: email, SEO, blogging, etc.
It was pretty great.
Then I found myself working on a project that involved an outside consultant. And that consultant was being paid $70,000 for his part in this project.
I was getting $53,000 to do full-time marketing work all year. He was getting $70,000 to do some specialized marketing work for about two months.
But it wasn't just about the money. This consultant was regarded as an expert. He wasn't paid to do as he was told—he was paid to tell us what to do!
That was when I realized I was in the wrong business. This guy had a way better setup!
So I wondered—why couldn't I do this, too?
After all, I had all the ingredients to make it happen:
I had a skill.

In this case, content marketing strategy. I knew how to find an audience, bring them into the fold with great content, and push them to a sales page.

Others found that skill difficult.

There are plenty of people who can write blog posts, but there aren't as many people who can grasp the big picture of a company's objectives, make a plan, and articulate that plan to a team in a way that gets everyone on board.

Decision-makers found that skill valuable.

Not only was I the guy at the company who could do this hard-to-do stuff, but people on the C-suite, vice presidents, and directors were budgeting for this kind of work. (So I knew people would be willing to spend money on this!)
If I were to diagram this out, it'd look something like this: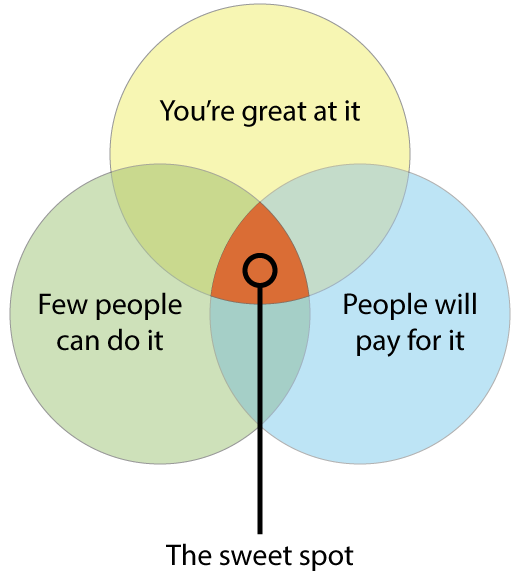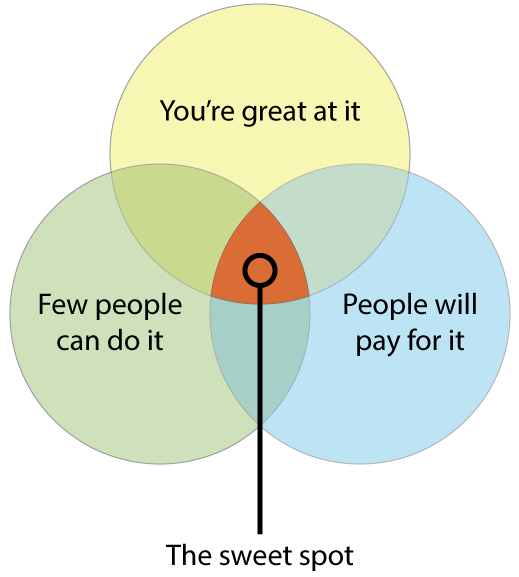 All I needed to do was find other companies who would pay me to do this for them.
And I'll tell you how I did that in Part 3 of this story.
But just to recap, you know the three big lessons I had to learn before starting a company. Understanding these guidelines directly set me up to launch a (thus far) successful company:
Strategically play crappy situations to your advantage.

Get paid to learn.

Find your sweet spot. (Focus on things that come naturally to you, but are difficult for most, and valuable to the people who make decisions.)
Thus far I've covered a good deal of the foundation for what came next. Tomorrow I'm going to give you the inside scoop on just how I got enough clients to go full-time into this agency.
But in the meantime: What's your sweet spot? I'd love to hear about it—leave me a comment!
This is the first of a four-part series of posts on how I made $300,000 in billings in six months by launching Overthink Group. Don't miss parts one, three, and four!