It's a big world of content marketing tools out there. Half of them you've never heard of, and the other half of them, well, you're probably sick of hearing about.
I've put together a big list of content marketing tools that marketing teams in the publishing industry should know about. This list is stacked around the following categories:
Attracting an audience (includes research, advertising, and SEO)
Converting traffic into leads (includes landing pages, forms, and multivariate testing)
Marketing and sales automation (includes email, social, and CRM)
And just a friendly heads-up: I love some of these tools so much I've partnered with their providers to get the word out about them. That means that if you should think some of these tools are just plain amazing and sign up to use them, I'll get a small kickback from their providers when you do. (You don't pay any extra—the companies are pretty much just paying me for doing the heavy-lifting marketing for them.) I've indicated which tools I'm affiliated with by adding [Affiliate] to the listing.
These tools can help publishers grow an audience of readers
[Affiliate]
Use SEMrush for:
Discovering what people Google
Getting found on Google
SEO
Competitive analyses
Price: Free to generate a few reports per day, pay for more useage
Some thoughts about SEMrush:
This is one of my all-time favorite tools. You can use it to see how many people are searching for certain search terms, and you can also see how people are finding their way to your competitors' sites! I used this tool when researching how to rank #1 for Christian apps. Plus, it gives you plenty of heads-up when it comes to helping your site rank better in search engines.
Check out this report I generated in about 2 seconds on my Bible literacy website: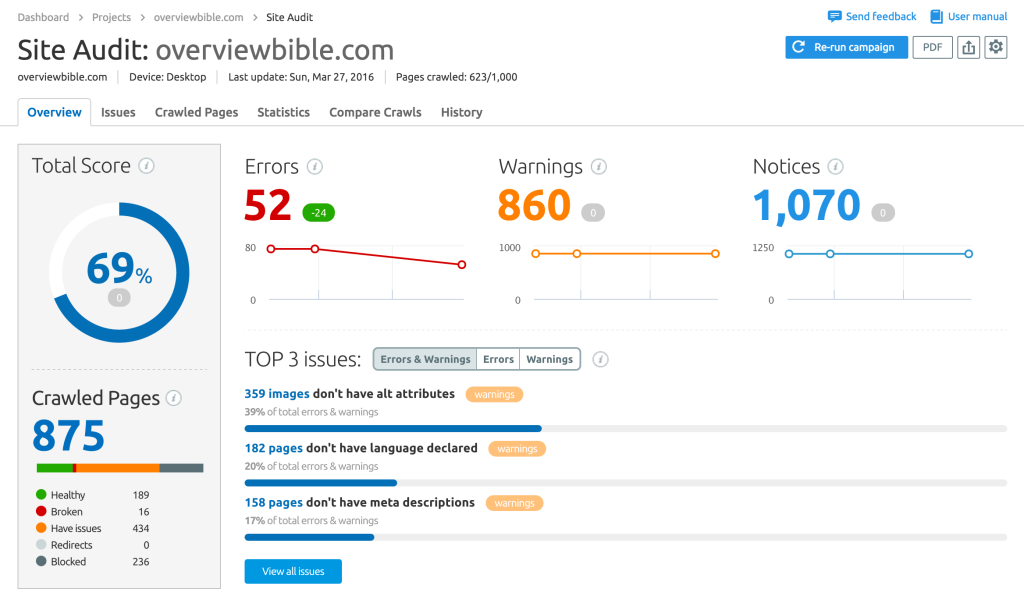 This tool gives me plenty of ways to constantly improve my site—it can do the same for yours, too.
Use it for:
Social media research
Building relationships with influencers
Author vetting
Price: Free, but you can pay for more features and reports
Some thoughts about BuzzSumo:
This is one of those tools that makes you feel giddy when you use it for the first time. Buzzsumo is pretty much the SEMrush of social media. It lets you see what people are sharing on major social networks. It shows you which voices are emerging on various topics. It also shows you what the most popular pages on a given website are—and just how popular they are.
It's golden if you're using it to have conversations with influencers or aspiring authors. If an agent comes to you to pitch an emerging author with a very popular voice on social media, you can look that author up in BuzzSumo to see just how popular they really are.
For example, lets say someone pitched you a book idea from blogger Jayson D. Bradley. The agent tells you Jayson is a popular blogger with young Christian audiences and has a voice that challenges the church to engage culture in a Christ-centered way. You could take the agent's word for it.
Or you could look him up in BuzzSumo and get the hard numbers yourself!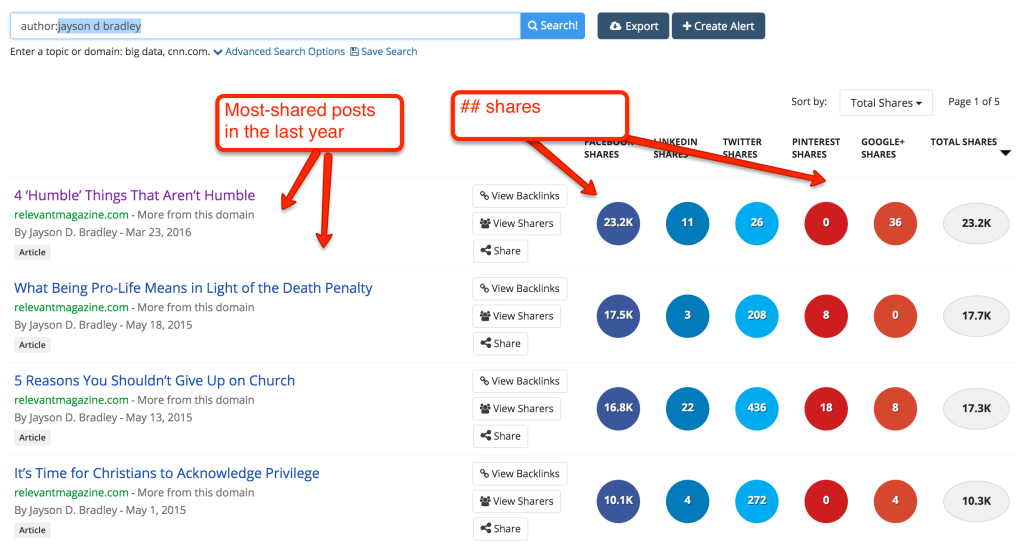 You can probably see why I love this tool so much, and highly recommend it to publishers. (And trust me, I've barely scratched the surface on what it can do!)
Use it for:
Watching trends (what else?)
Price: Free
Some thoughts about Google Trends:
OK, so you have 10 amazing books on leadership in your backlist. You know they're still relevant books—no chapters on beheading the sons of your rivals.  You just aren't sure when to blog about them or post to social media in a way that brings these books to attention.
Enter Google Trends.
You can plug in "leadership" and immediately see when people have (or haven't) been searching for leadership on Google:

Huh. Looks like interest in leadership tanks around Christmas every year, but for the most part, it's constant. Good to know, right?
Use it for:
Calculating search volume for certain terms
Calculating cost to advertise around those search terms
Price: Free
Some thoughts about Keyword Planner:
It's the bare minimum tool for calculating search volume. I greatly prefer SEMrush, but if you want unlimited reports and don't want to pay for them, this is the bottom-line way to go.
Tools for converting visitors into leads
This part of the list addresses tools that will help you turn website traffic into email subscribers (or possibly purchasers).
Use it for:
Getting people to join your MailChimp list from your WordPress site
Price: Free, with nonfree options for multiple forms and domains
Some thoughts about MC4WP:
I recommend this because both MailChimp and WordPress are really popular. If you're already using them both, this is a quick-and—not-necessarily-dirty way to start turning blog visitors into email subscribers.
Use it for:
Forms
Landing pages
Follow-up email
A/B testing
(more at a later part of this article)
Price: Mid-range to Enterprise
Some thoughts about HubSpot:
If you need an all-in-one marketing platform, that's what HubSpot is built to be. It gets really pricey really quickly, and I honestly haven't had a great experience with their in-house customer success team. But if you want one platform to handle pretty much everything (and not be too hard to use), this is the way to go.
Use it for:
Forms
Landing pages
Follow-up email
A/B testing
(more later)
Price: Enterprise
Some thoughts about Marketo:
I won't go into this too much in this section, as Marketo is first and foremost a marketing automation platform. But I can say you can build landing pages, forms, and all that great stuff in Marketo.
Use it for:
Forms
Landing pages
A/B testing
Price: Free, with paid premium options
Some thoughts about UnDelay:
This little tool is still in beta, so as I write this it's still a little buggy. But I love the vision behind this tool. It's a landing page builder that lets you create landing pages for specific mobile devices your audience is using—and test those designs to see which is performing best.
Tools for marketing and sales automation
These tools will help you automatically sell when the time is right. =)
Use it for:
Automating emails
Lead scoring
CRM
Price: Mid-range to enterprise
Some thoughts about HubSpot:
Again, this is the all-in-one marketing platform. If you have a decent backlist, then HubSpot can be the platform you use to automatically ping your readers recommending more books to buy. It's powerful, and probably one of the easier platforms to learn to use!
Plus, its lead-scoring capabilities can make your B2B relationships a little easier to manage. 😉
Use it for:
Anything you can think of in terms of automating marketing. Seriously.
Price: MUY EXPENSIVE
Some thoughts about Marketo:
I mentioned these guys before. When it comes to content marketing automation, they're the king. Multi-triggered automated sales campaigns? Done. Lead scoring and progressive profiling? Done. Behavior-based messaging? Done.
Once you master it, you will feel like a superhero. Nay, a cosmic marketing demigod.
But first you will feel like the world's dumbest baboon. To call the interface "user unfriendly" would be like calling Wile E. Coyote "accident prone." Your head will spin. (I spent about two months just trying to find my footing in the software—and that's WITH the training!)
Plus, it's expensive. (Like, plan to spend more than $1,500/month on the tool expensive.)
But the power you get from Marketo—it's dramatic. The ability you'll have to market your backlist will blow you away.
Use it for:
Scheduling and automating social media posts
Social media advice from their awesome blog
Price: Free and paid options, plus nonprofit discounts
Some thoughts about Buffer:
I've been a Buffer user for a while (and I've done some freelance work for them). They're committed to giving people a simple, intuitive way to share content via social media. And their support team is top-notch.
Use it for:
Writing and sending emails, some automation
Price: Free and paid options, plus nonprofit discounts
Some thoughts about MailChimp:
I use MailChimp—and a lot of other people do, too. They're the way to go if you just want to get started with sending email without paying an arm and a leg.
Use it for:
Writing and sending emails
Marketing automation
Email marketing advice
Price: Low- to mid-range: and their plan scales with your size in a way that makes sense for smaller publishers
Some thoughts about Emma:
There are plenty of email marketing platforms out there. Emma is more than just a platform, though—they're like an extension of your marketing crew. They'll develop custom templates, train you for success, and all that good stuff.
Use it for:
Sending and tracking video in emails
Price: Low- to mid-range (about $70/month)
Some thoughts on BombBomb:
If you're trying to sell books in bulk, you're probably thinking, "All this email stuff is great . . . but isn't email a little impersonal?"
Yes, I suppose it can be. But it doesn't have to be—especially if you're sending super-friendly videos to your contacts. BombBomb helps make email a lot more personal by allowing you to send videos directly through email—and quickly, too.
Any more?
Obviously, there are a lot of tools that I haven't listed here yet—but I plan to revisit this article every month or so to dump in more tools, use cases, etc.
Any tools you'd recommend for helping publishers with content marketing? I'd love to hear about them in the comments!